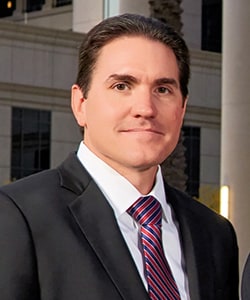 Jeremy Lasnetski
Partner - Criminal, Immigration, Crimmigration
Mr. Lasnetski has been practicing law in Jacksonville for nearly 20 years. He focuses his practice on criminal defense and immigration. Mr. Lasnetski received his Bachelor of Arts degree with honors from the University of Florida in 1997. Mr. Lasnetski went on to obtain a law degree and an M.B.A. from the University of Florida in 2001. In law school at UF, he received the Book Award in Torts, which is presented to the student with the highest grade in the class.
After graduation, Mr. Lasnetski accepted a position as a prosecutor at the State Attorney's Office in Jacksonville. During the next 6 1/2 years, Mr. Lasnetski tried more than 50 criminal trials, including more than 40 felony trials. Those trials have included First Degree Murder, Armed Robbery, Trafficking, Domestic Battery, DUI and many other charges. During his career at the State Attorney's Office, Mr. Lasnetski gained experience in the Misdemeanor unit, the Felony unit, the Gun unit, the Special Prosecution unit, and the Repeat Offender unit. He was promoted in 2007 to Division Chief of the Repeat Offender Unit. To date, Mr. Lasnetski has tried more than 70 criminal trials in both State and Federal court.

Mr. Lasnetski was also a full time member of the Homicide Prosecution Team. As a member of that team, Mr. Lasnetski would respond to the scene of homicides and participate in the law enforcement investigation from start to finish. After the investigation concluded, Mr. Lasnetski would determine whether prosecution was warranted. If so, he would maintain control of the case throughout the entire criminal process, from beginning of investigation through sentencing.
Mr. Lasnetski has also dedicated his practice to the representation of individuals with a variety of immigration needs. Mr. Lasnetski is a member of the American Immigration Lawyers Association. He helps people that are seeking visas, extensions, change or adjustment of status, and many more benefit side immigration issues, as well as represents those that have received a notice to appear or are being detained for potential removal or deportation, including bond hearings, removal hearings and more.
Education
J.D., University of Florida, 2001
M.B.A., University of Florida, 2001
B.A., University of Florida, 1997
Graduated with Honors
Jurisdictions Admitted to Practice Florida
U.S. District Court, Middle District of Florida

Professional & Bar Association Memberships
Jacksonville Bar Association
Florida Association of Criminal Defense Lawyers
American Immigration Lawyers Association
Previous Work Experience
Duval County, Florida State Attorney's Office, 2001-2008
Division Chief
Homicide Unit
Repeat Offender Prosecutor