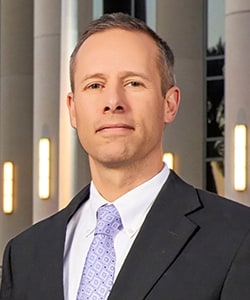 Paul A. Shorstein
Partner - Criminal, Personal Injury
Mr. Shorstein was born on July 21, 1971 in Jacksonville, Florida to Harry and Ann Shorstein. He received his Bachelor of Arts degree with honors from the University of Florida in 1993, where he was a member of the Phi Beta Kappa academic fraternity. In 1997, Mr. Shorstein graduated Magna Cum Laude and in the top 3% of his class from the University of California, Hastings College of Law. At U.C. Hastings, he was a member of The Order of the Coif.
After law school, Mr. Shorstein accepted a job as an associate at Kilpatrick Stockton LLP in Atlanta, Georgia. In that position, he worked on significant commercial loan transactions, the values of which were often well into the eight figure range. In 1999, Mr. Shorstein began working as an assistant district attorney with the DeKalb County District Attorney's Office in Decatur, Georgia. As a criminal trial attorney, Mr. Shorstein tried over twenty-five felony trials with charges ranging from homicide to drug trafficking to complex white collar thefts.
For two years, Paul Shorstein was the head of the entire White Collar Crime Unit and Asset Forfeiture Division in the second biggest county in Georgia. This division focused on the prosecution of complex white collar crimes, which provided valuable experience in how to try a complex criminal case. He was the first attorney in the county to successfully prosecute a RICO case and was given a special commendation by the Atlanta branch of the FBI for his work on two large scale white collar crime cases that involved victims all over the United States and a money trail that spanned two continents.

In 2005, Mr. Shorstein moved back to Jacksonville, Florida and accepted a job as a personal injury attorney with Pajcic & Pajcic, P.A. handling all varieties of plaintiff's injury litigation from auto and truck accidents to medical and other professional malpractice and complex insurance coverage disputes. Mr. Shorstein has been involved in several lawsuits that resulted in recoveries of seven figures for the clients. Mr. Shorstein would assess the personal injury case, develop the case throughout the negotiation and litigation process, advise the client, and either seek an advantageous settlement or prepare the case for trial.
In 2008, along with SLG Partner Jeremy Lasnetski, Mr. Shorstein started the Law Office of Shorstein & Lasnetski and he focused his practice on being a criminal defense attorney and a personal injury attorney. Within the next year, his father, former elected state attorney Harry Shorstein joined the firm. In 2014, the firm added John Gihon as a partner and opened up the Orlando office. Putting his accumulated experience to work for him, Paul has represented clients in both criminal courtrooms and personal injury cases since 2008 in SLG's Jacksonville Office. He represents clients in both State and Federal criminal courts on all possible charges, including DUI, domestic battery, drug cases, sex cases, robbery, burglary, murder and more. He also represents clients in a variety of personal injury matters, both big and small, including automobile accidents, motorcycle accidents, and more. With so much trial experience, Paul has a clear understanding of what it takes to develop a successful personal injury lawsuit.
Education
J.D., University of California, Hastings College of the Law, 1997
Graduated in top 3%
Magna Cum Laude
Order of the Coif
Thurston Society
Associate Executive Editor of Constitutional Law Quarterly
Four American Jurisprudence Awards
B.A., Political Science, University of Florida, 1993
Graduated with Honors
Phi Beta Kappa
Golden Key National Honor Society
Jurisdictions Admitted to Practice Florida
Georgia
U.S. District Court, Middle District of Florida

Professional & Bar Association Memberships
Florida Justice Association, 2005-2008
Jacksonville Bar Association, 2005-2008
American Bar Association, 2005-2008
Previous Work Experience
Pajcic & Pajcic, Plaintiff's Personal Injury Attorney, litigating all varieties of personal injury and malpractice cases for plaintiffs, 2005-2008
DeKalb County, Georgia District Attorney's Office, 1999 - 2005
Head of the White Collar Crimes Division prosecuting all felony white collar crimes for the county, 1999 - 2001
Kilpatrick Stockton, Financial Transactions Attorney, 1997-1999