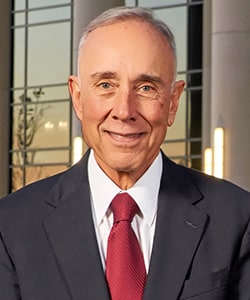 Harry L. Shorstein
Partner - Criminal, Personal Injury, Civil
Harry Shorstein is one of the most distinguished and experienced lawyers practicing in Florida. He continues to garner coveted achievements as evidenced by his recent recognition by U.S. News & World Report/Best Lawyers as the best white collar crime defense lawyer for the Jacksonville, Florida area for his work in state and federal courts representing individuals and companies in mortgage fraud and other fraud related cases as well as pain clinic cases.

Prior to returning to private practice, he was the five term State Attorney for the Fourth Judicial Circuit (covering Duval County, Clay County and Nassau County). In 2008, he decided not to run for a sixth term and to return to private practice with Shorstein, Lasnetski & Gihon. He was also recognized as one of the most experienced and well-respected attorneys in Florida by becoming one of three finalists for the United States Attorney position for the Middle District of Florida which covers the largest area in Florida from Jacksonville to Florida, a position chosen by the president.

Mr. Shorstein attended the University of Florida for college and law school. After graduating from law school, he served as a Captain in the 3rd Marine Division in Vietnam. Upon his return, he worked as a Division Head at the Jacksonville Office of the Public Defender. After leaving that office, he spent several years as a Division Head and then Chief Assistant at the Office of the State Attorney. After the State Attorney's Office, Mr. Shorstein served as General Counsel for the City of Jacksonville.
In 1991, Mr. Shorstein became the State Attorney for the Fourth Judicial Circuit. He held that position for almost eighteen years until deciding not run again in 2008. As the State Attorney for the Jacksonville area, he tried a variety of criminal cases, including over 30 murder cases, all of which he won. He also implemented a groundbreaking juvenile justice program that focused on rehabilitation and education that won national acclaim and was copied by prosecutors across the country. His extensive experience and accomplishments as a trial attorney have been chronicled by 60 Minutes, The Newshour with Jim Lehrer, NBC Nightly News with Tom Brokaw, The New York Times, USA Today, U.S. News & World Report and others state, local and national media outlets. He is also a Fellow of the American College of Trial Lawyers.
After over two decades of public service, Mr. Shorstein decided to return to private practice where he spent 15 years representing the rights and interests of individuals and businesses prior to becoming the State Attorney. In private practice, he defended clients on criminal matters in state and federal court, including complex white collar cases. He handled serious and complex wrongful death and personal injuries cases, and he represented companies in all varieties of business disputes. Another area where he has developed extensive skills and experience is in the representation of professionals in civil litigation and in front of licensing and other administrative boards.
Education
J.D., University of Florida, 1965
B.A., Business Administration, University of Florida, 1962
Florida Blue Key
Jurisdictions Admitted to Practice Florida
United States Supreme Court
United States Court of Appeals, 11th Circuit
U.S. District Court, Middle District of Florida

Professional & Bar Association Memberships
The American College of Trial Attorneys
The Florida Bar
Jacksonville Bar Association
Previous Work Experience
State Attorney, Fourth Judicial Circuit (1991 – 2008)
General Counsel, City of Jacksonville
Law Offices of Harry Shorstein
Naval Judge Advocate, United States Marine Corps